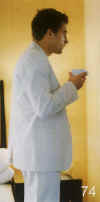 Built for Speed (Allison Oleskey, Detour)
03.00

There are quite a few young actors out there like Speedman -- young men with chiseled faces and bodies, starring in television series and teen flicks. So far, about the only thing separating him from the rest of the pretty faces is the material he has chosen.

If you don't know who Scott Speedman is, chances are you will, soon. Currently, he is in production on the second year of the critically acclaimed teen-angst television series Felicity, one of the cornerstones of the WB -- home to Buffy the Vampire Slayer, Roswell, and Popular. On the show, Speedman plays Ben Covington, the guy who was so irresistible that pragmatic Felicity Porter, played by Keri Russell, nixed plans to enroll at Stanford and followed him to NYU in the first episode. In its sophomore season, the show is getting good reviews, but not great ratings. Nonetheless, it has catapulted its young cast into the spotlight. Felicity shoots eight days per episode, and Speedman's services are typically required on half of those days, allowing him time to work on other projects.

In his first side venture, he joins Gwyneth Paltrow and Maria Bello in Duets, a comedy set in the world of karaoke bars, which is set for a May release. To date, the buzz surrounding the film has concentrated on the rumors linking Speedman to his famous co-star off screen. Speedman's greatest concern is that audiences might be expecting Duets, a somewhat modest ensemble piece, to be a big, frothy Hollywood romantic comedy. "Gwyneth and I don't play romantic leads," he says, "it's three different stories. I don't want to hype it too much because people might have different expectations. It's a small movie, but it's very good."

Speedman was picked for the role of Billy, a cab driver, at the last minute. The director, Bruce Paltrow -- Gwyneth's dad, best known for his work on the 80's TV series White Shadow and St. Elsewhere -- was in Vancouver ready to shoot, but was having difficulty casting the part, which was originally intended for Paltrow's then-boyfriend, Brad Pitt. The casting director met with Speedman, read a few scenes with him, and sent his tape off to Paltrow. That was it: Paltrow wanted Speedman. Then it was simply a question of working out his 14-day shoot in Vancouver with his Felicity schedule. Why has Speedman done one "small but good" film when so many of his contemporaries are cashing in on the teen sensation? "The movies I get offered, I don't want to be in," he says. "For the most part they're things you would expect someone from the WB to be in, and I don't want to do it. I'll take a career bash for it. I'll disappear before I do it."

The lure of money and megastardom doesn't seem to interest him either. But what if he were offered a $10 million paycheck to be in a mediocre movie? "I'm on a series. I don't make a huge amount of money, but I make more than I ever thought I would," he says. I've made all the right choices so far, and I don't see why I won't continue to. Things happen too easily for people here. I think once you get into a certain position, things get offered to you, and suddenly all those things you said you would never do, you're actually being offered a lot of money to do. Fuck, you must think to yourself: I could buy this, I could live like this."

Speedman seems to be content with his current living situation -- a small guest house in Los Angeles with a Murphy bed and no television set. He still drives a rental car, and doesn't seem overly concerned about what kind of wheels he'll get when he clears up his problems with his Canadian license. He hangs out with a handful of friends in L.A., and spends his free time reading, running, and playing "as much basketball as possible." At the moment, he isn't dating anyone special and doesn't list that as a high priority for the immediate future. However, he does admit that Los Angeles might be a little more bearable if he were in a relationship. "It's just such a different ball game here in terms of dating. Before, I just dated girls I knew." He has been warned not to date actresses but, as he points out, "that's who you meet, who's around you."

Born in London and raised in Toronto, Speedman was discovered while appearing briefly on a show called The Speaker's Corner, an MTV-style open forum in Canada. "I have no idea why I got called," he says. "My friends and I watched the videotape from that and I look like a 16-year-old drug addict with a bad Caesar haircut. All I do is stand up and say, I'm Scott, and I live here, and this is my phone number. That was the first thing I did in front of anybody." He was called in to audition for the part of Robin in Batman Forever, and even though the role went to Chris O'Donnell, it was enough to get Speedman an agent, and eventually his role on Felicity. He got the news about Felicity during his first week of college and never looked back. "I was never a student anyway," he admits. "I was a swimmer in high school, and that was always the first and foremost priority; school was a distant fifth."

It appears that with acting, he has found something to sustain his interest. "I know now that I want to act for the rest of my life," he insists. "I don't care what capacity it's in. I don't need to be in huge movies or television series. I think a lot of people come to Los Angeles because they're empty and they want fame because they think it will fill them up. That mentality doesn't interest me."

For now, Speedman's tabloid appeal is negligible, since he no longer appears to be linked to his famous co-star, nor does he have a summer blockbuster waiting to hit the theaters. However, that will change when -- and it will happen -- he becomes romantically involved, or his next "small but good" movie finds a larger audience. Then, eating brunch on Saturday or walking through the airport will become an exercise in crowd avoidance. "I was telling Keri Russell where I eat breakfast, and she asked me if the photographers knew I went there," he says. "That is so strange to me. I said, That's your life, not mine. But if I was in a movie that put me in a position of fame, I think I could handle it." We'll find out soon enough -- stay tuned.