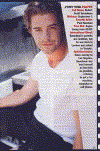 Full Speed Ahead (Soap Opera Digest)

06.13.00

FIRST, FELICITY'S SCOTT SPEEDMAN (BEN) STOLE KERI RUSSELL'S HEART. NOW HE'S GOT GWYNETH PALTROW IN THE PALM OF HIS HAND--OR AT LEAST, IN HIS TAXI.

"It's not overwhelming at all," insists 24-year-old Scott Speedman, whose life took a dramatic turn when he was cast as the brooding Ben Covington on The WB drama FELICITY. Maybe that's because despite being labeled one of Hollywood's hot up-and-comers, the Candian-bred Speedman (or Speedy, as he's called on the set) eschews the wild, high-profile Los Angeles lifestyle. Though he and co-star Keri Russell (Felicity) are reportedly dating, neither actor will discuss the romance. And you won't find them out on the town. "Big parties make me laugh because my life is really not like that," shrugs Speedman. "It's not crazy. I don't get followed around. It's really quite simple."

A disdain for the limelight isn't the only characteristic Speedman shares with Ben. Both swam competitively in high school, and both found themselves unable to continue once they graduated. (Speedman suffered an injury that forced him to stop, and this season on the show, the university dissolved the swim team.) But while Ben's character only contemplated dropping out of college, Speedman followed through to pursue acting full-time after a girlfriend's dare landing him on SPEAKING CORNERS (sic), a Toronto television show where viewers are allowed to speak their mind. On the show, he said he wanted to play Robin, the Boy Wonder, in Batman Forever, which was casting in town. Within two weeks, he got a call from Warner Bros. asking him to audition. Chris O'Donnell won the role,but Speedman got an agent from the experience.

A slew of kinda cheesy roles followed (like playing Nancy Drew's boyfriend on a French Canadian series), then Speedman submitted a videotape to play Ben. Three days later, he was on the set.

"We have crazy fun," laughs castmate Greg Grunberg (Sean). "We just goof off all the time. And we'll improvise. He doesn't know what I'm going to do; I don't know what he's going to do. At the end of the scene, we'll try to one-up the other to try to throw each other off. It keeps it fresh."

"He's always running around on the set," laughs series Creator/Executive Producer J.J. Abrams. "You call, 'Action!' and he's never there. You have to yell, 'Speedy! Speedy!' and he runs over. He's always running."

Speedman may be running from hordes of new fans later this year when the movie Duets--costarring Gwyneth Paltrow--opens. "It's essentially a road movie about three different duets--three different couples--and these karaoke clubs around the country," explains the actor, who plays a taxi driver.

While Speedman admits to being "pretty nervous" about filming the high-profile project, he was too busy to let it consume him. "I was busy doing FELICITY at the same time," he explains. "So I didn't have a lot of time to think about it. I just went and did it. And everyone was really accepting of me."

As for working with Oscar-winner Paltrow, he has nothing but glowing reviews. "She was great," he gushes. "She really is a good actress. The first time I worked with her, I could tell she was right there moment to moment, and I really liked that."

FELICITY's growing on him, too. "We started kind of slow," he admits. "We had some good ideas, but didn't commit to them. But the last couple of episodes have been really good!"

Video Star (side-bar)

The producers of FELICITY were down to the wire, and they still hadn't found their Ben. Out of the blue, a videotape arrived from Scott Speedman. "We had never met him," recalls series Creator/Executive Producer J.J. Abrams. "We had started shooting on a Friday, and he came to L.A. on that Friday. We actually met him after we started shooting." In fact, the character didn't even have a name until the following Monday! "It was initially Billy," explains Abrams. "But ALLY McBEAL already had a Billy, and because our show was similar we thought, 'Oh, God!' So on the set everyone was throwing out names. Someone said Ben. So we went with Ben."